SOLD OUT
Features vintage MINOLTA XG-A SLR Auto Exposure 35mm film camera sporting a MINOLTA MD 50mm, f/2 lens. THIS OFFER INCLUDES the Camera Body and Lens.
The XG-A was one of several MINOLTA XG series auto exposure cameras launched and sold between 1977 and 1984. The XG-A was introduced in 1982 and was the last model of the MINOLTA XG series cameras. The XG-A was marketed as an affordable smaller bodied auto SLR camera with many of the technological advances in electronics of the time. This included the ability to mount the popular MINOLTA AUTO WINDER G. Other features included a fail-safe electronic exposure system, solid-state information viewfinder, easy handling controls and the ability to take on a broad range of accessories like all X-Series Auto Electroflashes and, the full range of MINOLTA lenses.
The MINOLTA XG-A has been thoroughly inspected, and cleaned and found to be in excellent physical, mechanical and electronic condition. All optics are clear with minimal surface wear and no mechanical/electronic abnormalities. The black leatherette skin is also in great shape.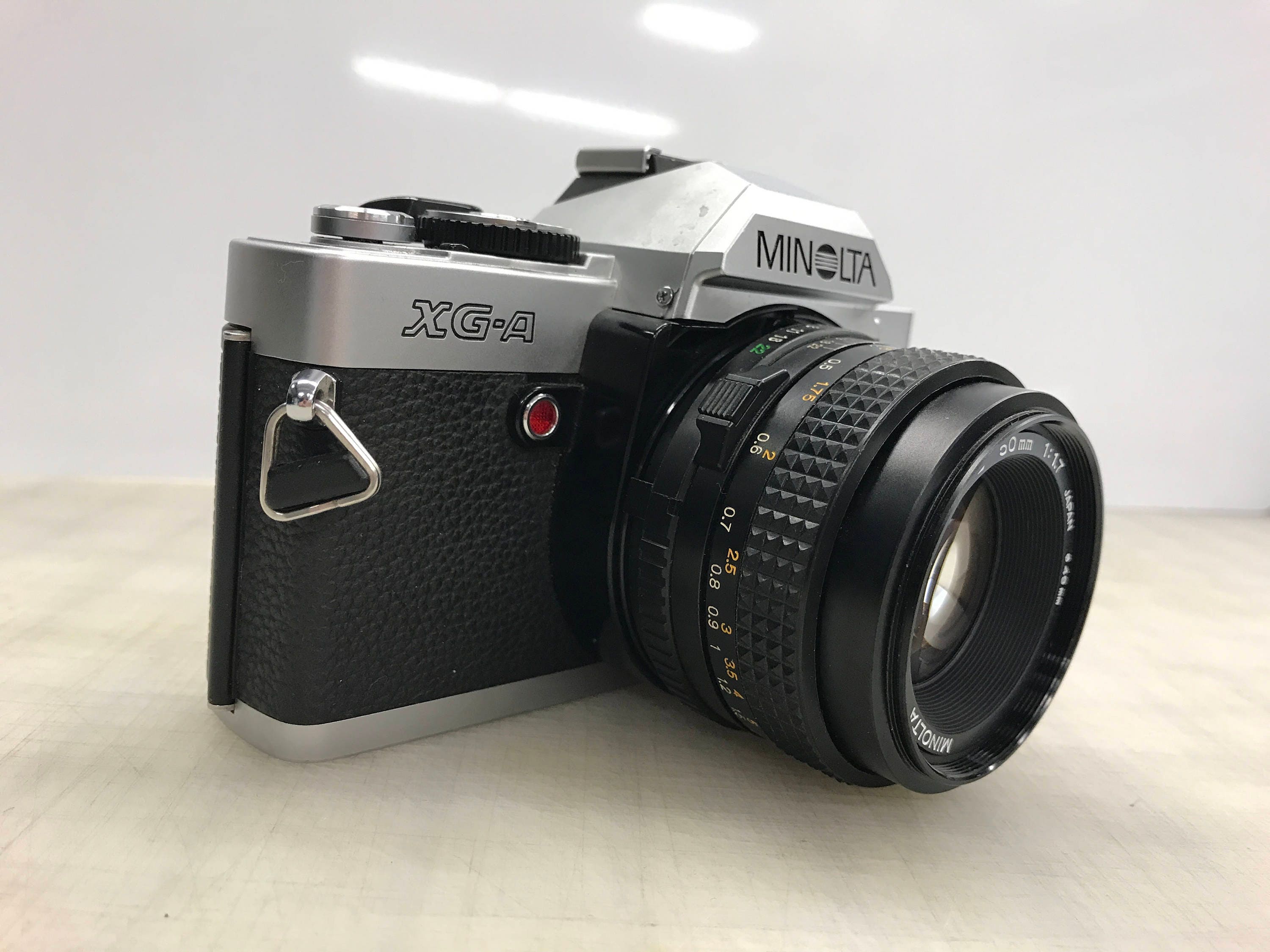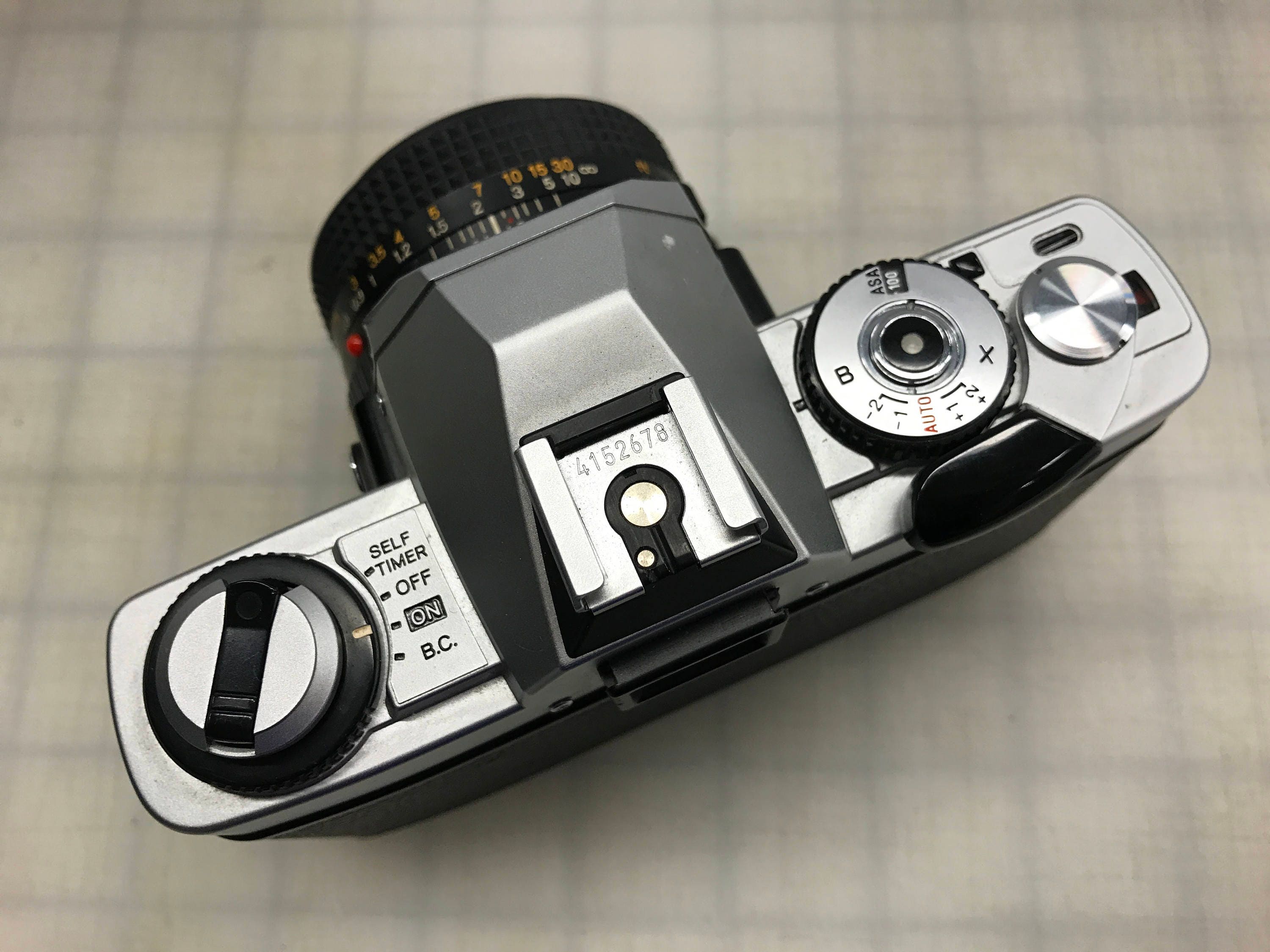 CAMERA SPECIFICATIONS/FEATURES:
CAMERA TYPE: 35mm SLR with automatic aperture priority exposure control.
LENS: Minolta MD 50mm f/2, 6 elements in 5 groups, coated, fully automatic/meter coupled diaphragm, filter mount 49mm threaded, bayonet type.
SHUTTER/SPEED: Horizontal-traverse focal-plane type, electronically controlled speeds 1/1000 to 1 sec., stepless on automatic mode.
METERING: Full-aperture TTL center-weighted averaging type by two CdS cells mounted on either side of the eyepiece at the rear of the pentaprism.
FILM SPEED RANGE: ASA 25 to 1600 set on the shutter-function selector.
AE ADUSTMENT: Up to +/- 2 EV adjustment of automatic exposure with lock at each 1/2 EV setting and "O".
MIRROR: Oversized quick-return type (PO value: 123mm).
VIEWFINDER: Eye-level fixed pentaprism showing 93% of 24 x 36mm film-frame area. Magnification 0.87X with 50mm standard lens focused at infinity; Acute Matte focusing screen with central horizontally oriented split-image focusing spot surrounded by microprism band; stepless speeds indicated by 7 light-emitting diodes; LED over/under range indicators; LED at "60" position also blinks as flash-ready signal with the X-series Auto Electroflashes.
FLASH SYNC: Hot shoe for X-sync. 1/60 sec. sync.
FILM ADVANCE/REWIND: Motorized with built-in coupler key with Auto Winder G; otherwise, by manual advance lever and rewind button.
POWER: Two 1.5v alkaline type (Eveready A-76 or equivalent) or 1.55v silver-oxide type (Eveready EPX-76/S-76 or equivalent).
SELF-TIMER: Electronic LED. Approx. 10 sec. delay.
CAMER SERIAL NUMBER: 4152678, Made in Japan.
*See ETSY Listing here to calculate shipping costs specific to your area.
Available only at Dreamer's Lil Dream Shop on Etsy.
All images: © Aundria Martinez.